Category Archives

Uncategorized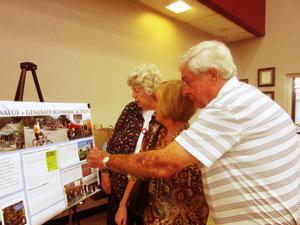 Silver Comet open house
The Rome contingent at the public forum in Cedartown on Monday night, April 20, 2015, included Bob Moore (from front), Chris McCormick and Peggy Moore. Bob and Peggy Moore owned Bob's Cycle Shop in Rome for many years. Chris is a past president of the Coosa Valley Cycling Association. (Tricia Cambron/SJ)
CEDARTOWN — A goodly number of Rome residents made the trek to Cedartown Monday night to get a first look at proposed routes to take the Silver Comet Trail from Cedartown to Cave Spring.
About 10 of the 75 people at the public forum organized by planners from Northwest Georgia Regional Commission and Alta Planning+Design were from Rome, including Peggy and Bob Moore, who owned Bob's Cycle Shop for more than 30 years.
Peggy Moore said the couple came to the forum for the love of trails, and hope to add the connector to the many miles they've already pedaled on the Silver Comet Trail. Moore said she believes the extension will boost Cave Spring's economy, and maybe one day Rome's.
"It's like a stepping stone," she said.
Her hope is that a Rome link will be a consideration in planning for the Cedartown-Cave Spring link. That's a theme Alta project manager Britt Storck has heard before.
"A lot of people come up to me and say 'how do we connect this to Rome,' and I say, 'I can't tell you.' That's not what we're considering now," Storck said.
Storck emphasized planners did not design the maps with an eye toward how the proposed trail might eventually connect with Rome.
"That never was and will not be a consideration in the final feasibility report. It is not in our scope of work," he said.
The public forum, which ran around two hours, skipped the presentation and comment format, and instead invited visitors to browse the various materials provided on easels and on tables around the room.
Members of NWGRC and Alta circulated among the crowd, answering questions and engaging in conversations with groups and individuals.
The routes are similar, generally following Seab Green Road to Old Cave Spring Road out of Cedartown and paralleling Perry Farm Road or Cedartown Road to Cave Spring. Route 1 is more rural, Route 2 includes a loop around Cave Spring and Route 3 shares a portion of public highway in the Mountain Home area.
Storck said all three were selected based on the same considerations, and each consideration was given equal weight in the decision. Those included property rights, avoiding intrusion on private property, impact costs and access to natural resources. Planners also considered what was the most direct route, and whether the link should tie into the Pinhoti Trail.
Paulette Harbin has lived in Cave Spring for 38 years and is the owner of Nanna's near the town square. She said she couldn't hike or bike anymore because "my knees won't let me," but she came to the forum to support her friends who can use the trail. She prefers Route 1.
"It seems like the simplest, there's less to do (to construct it), less sharing with the Pinhoti trail," she said, and "there's beautiful views of the ridge of hills running along the path."
NWGRC planner Charles Jones said funds to build the proposed connection could come from state or federal funding, some of which would require a city or county match.
The Silver Comet Trail is the nation's longest and oldest paved rail-trail, extending 61.5 miles and connecting seven cities and three counties from Smyrna to the Georgia/Alabama state line.
Alta's 2013 economic impact report said that this in-state expansion alone has the potential to double the number of users and economic benefits on a local and regional scale.
-Tricia Cambron, Cedartown Standard-Journal